Important changes and new features of LabVision Version 2.9
HBr 13.09.2009

┬ę 2007 Microsoft Corporation.
LabVision 2.9 is compatible with Windows Vista (32 Bit) and Windows XP (and Windows 2000)
NEW: Hitec Laboratory-Information-Management-System (HiLIMS)
Special laboratory information management system for the F&E laboratory
Store and administrate data from test series, parallel experiments and values from LabVision systems
Requires Microsoft SQL-Server 2005 (shipped with the free MS SQL-Server Express Version)
Network and multi user support
Powerful functions under a simple user interface that can easily be learned
Integrated formula designer
Administrate all recipe, batch and project data
Intelligent search dialogues for date and value areas
Integrated data-mining-, statistical analysis and report generators
A lot of import-, export functions to other software
Addition features in the Project-Modules, as well as a ready-to-use project module library for common laboratory tasks (ORDERCODE: MODBIBALR)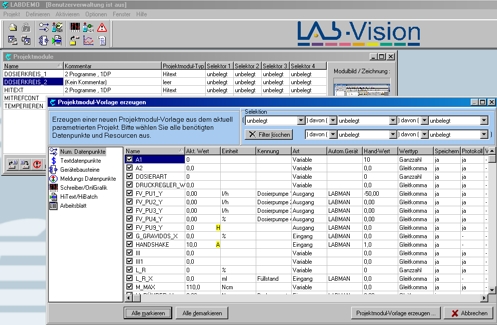 Project-Modules can extract complete parameterized functional parts (e.g. a doser with refilling, or a complete labor reactor) from an active LabVision project. These extracted Project-Modules can include all types of data points, multi plotter, worksheets as well as HiText-programs. Such a Project-Module will be stored in a special library (independently from current project), with all links and relations of the used components. Data point properties e.g. work areas, units, scaling range and all machine-dependent information are saved. LabVision 2.9 has now an additional designer library support for Project Modules. These libraries allow to create ready-to-use worksheets elements, that can be placed on a worksheet.
This modules can be used in the same and/or any other LabVision project or even on an other computer with a different equipped MSR/LABmanager. The user who imports a Project-Module will be supported by an comfortable interactive dialogue that makes it easy to adapt special data points to other hardware modules or different connection points. Possible name conflicts of data points can automatically suppressed by using the build-in renaming function.
The same Project-Module can be added several times (only reduced by the equipment). All references are adapted automatically, so that for example it is easily possible to clone complete doser (with device components, monitoring conditions, worksheets for user interaction and HiText-programs for evaluation). This software option can therefore be used as "online cloner".
Data points and resources that have been loaded by a Project-Module are particularly marked. They can be removed all together (in one operation), if they are not any longer needed.
The library management of generated Project-Modules is equal to the project administration of LabVision. All files of a Project-Module can be put down in only one compressed file. So it can easily be copied to an other HiTec Zang LabVision system.
The pre-configured Project-Module-Library MODBIBALR war designed for the most usual tasks in laboratory (e.g. dosing, distillation ...). These modules are "ready for use" and have only to be adapted to special hardware equipment. This lowers the development time, in case of frequent changed experimental setups, for the user substantially.
LabVision 2.9 has much better filter options to create new project modules.
The new device components of version 2.9 (especially Namur) are now fully supported
Simpler revision from modules already put down.
Redesign of Multi-Plotter and Online-Chart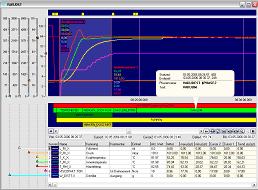 The well known Multi-Plotter and Online-Chart was completely redesigned in Version 2.9.
The screen layout was accelerated, as well as the accuracy of the chart display
New navigation buttons and value display directly at the cursor allows a shortened search of relevant date- und value areas.
The optional legend table displays average values as well as information, comments and value status.
Increased scrolling time by large periods, because the data base request will be interrupted by key or mouse usage.
The number of optional displayed (recipe-) phases was increased to 12. The phase plotter is (like the event plotter) underlined by a hint window.
All axis can be scaled logarithmical
The Online-Chart accepts now reference curves from common CSV-files (Excel).
Extensions in Worksheet-Designer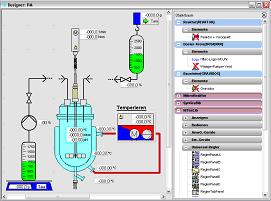 The object tree from version 2.8 has turned to the main control for the creation and administration of worksheets, designer elements, and libraries.
The designer has a new, very easy to use, library management for designer elements. User libraries can be created global (for all projects) or local (in the current project context) can now professional be designed.
A new grouping function for designer elements

Together with project modules ready-to-use configured components and/or equipment displays, which consist of several display and control elements, can be pulled on worksheets. An additional assigning of the each data point is not necessary any longer.

New and better designer elements permit a faster development of worksheets

You can assign a RTF text file (with explanations and pictures) to each designer element, that the worksheet user can popup at runtime.

Worksheets can now (like HiText/HiBatch) be developed for multi language purposes.
Better handling of mouse and keyboard events
Change the edited worksheet without leaving the designer
Simple search and mark of optical overlaid elements by click in object tree
Quick display the content of marked elements with the new "data point reference module"
.....
Simplified definition and parameterization of device components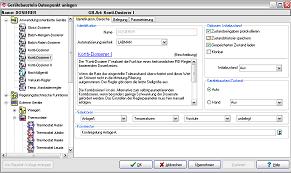 The parameterization

and the usage of device components has substantially been improved.

Ready

parameterized

device components can be saved as templates for other instances

Namur based device components are now handled without any difference to other types

D

evice components like scales, pumps or thermostats can be easily adept to other physical models, without that the using recipes, HiText programs or worksheets have to be changed

Inputs or outputs of

device components can be assigned (without the usage of special linking data points) to physical I/O's

on your MSR/LABmanager

An included library has device components for a lot of

laboratory instruments
New: Data point reference module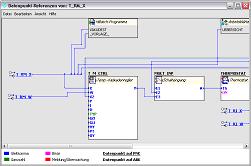 The reference screen can be activated by right click on data points or display elements. It will show a diagram of all references, value links and module usage that belong to this data point.
This module can show the hole project connections or that of a selected part.
The display is scalable and printable
The LabVision project documentation will use that module to display a data point relationship graph in the created Excel document (or HTML file)
Additional functionality of HiText/HiBatch
Extended

examination of parameterized recipes to to completeness and formal accuracy.

Changing transaction and monitoring

conditions at runtime

Version administration for basic operations: Elements from the basic operation library will now be saved to the project context too, if an instance of this element is created. After loading a former created project HiText will make a version check between the loaded version and the currently used version in library.

Laboratory-Journal: The page layout (headline, footer, company logo ... ) is now valid for all pages

Displaying of current values in HiText program editor

Reading and area cursors in HiText diagrams.
New features in LabVision basic module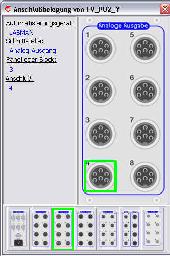 Existing data points can be copied with their MSR/LABmanager PNK-parameters. The user has only to select a free device resource or channel.

The maximum name length for projects or data points was extended up to 32 chars
The names for data points or program resources like multi plotter, worksheets or HiText programs can be easily change at any time. Name references

in HiText programs or worksheets will be renamed automatically without any interruption.

A channel display of the used hardware resources may be activated in all data point tables of LabVision or on right mouse click.

Multi language support for all comment fields (e.g. label/comment for data points, displays in worksheets)
Now all thermocouples from DIN IEC 584 can be used
NEW: KalDas 3.0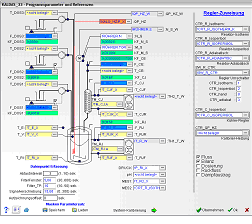 KalDas is a new development in the field of reactions calorimetry. This program provides you with data that you need for model evaluations (e.g. scale up) and considerations of energy and safety.

a modern, comfortable, graphic user interface

freely selectable evaluation strategies

freely definable baselines, CP and KwA interpolation

powerful correction and filter functions

freely configurable report (graphics, tables and numeric and text fields)

adjustments and extensions adapted to your needs are possible

KalDas was primarily developed for the HiTec reaction calorimeter. However, there is no constriction to any specific calorimeter, i.e. the program may be adapted to every other device. It is suitable for on-line and off-line evaluation.

New: Multi-LabCam System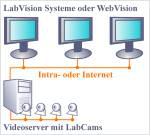 Add-on for the existing LabCam module to an unlimited number of Cameras.

Now live pictures or recorded video streams can be delivered from any other computer that is connected by Intra- or Internet.

Live pictures are now fully supported by the WebVision module.
Other extensions of LabVision version 2.9
Application manager
Central message window for important error messages. A stack of repeated messages will be avoid.
Life-Update button to our customer specific download area. All available software updates for your machines.
In case of system/pool time differences the adoption window can be opened directly in application manager.
Better descriptions of rights in the user management
MSR/LABmanager PNK-driver
Automatic port detection and parallel "firmware flashing" for all new software releases.
New and much quicker communication protocol between driver and machine
New features in AWLplus module
Support for long data point names and the renaming function
MSR/LABmanager operation system (firmware)
The operation system was completely redesigned
New support for laboratory devices with ModBus protocol (Ordercode: MBUSPNK)
WebVision
New Multi plotter screen (see LabVision)
The online chart is now implemented
More filters in process report (recipe filter)
Other PNK-drivers
All PNK-drivers support the long data point names and the renaming function